Blue Catfish x Channel Catfish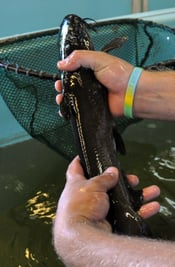 Scaleless, slender fish with a deeply forked tail and barbels around the mouth. The back and sides are dark gray-blue; the belly is white. Sharp spines in pectoral and dorsal fins. The typical diet consists of Crayfish, sunfish, small fish, commercial fish food and anything they can scavenge.
Spawns late-May to July when water temperatures are 70° F to 75° F. Nests are constructed in natural cavities and overhangs.