White Nile Tilapia
Oreochromis niloticus tend to like warmer temperatures and are ideal for the aquaponic enthusiast who also wants an ornamental fish. These vibrant white fish glide through the water and will impress all your visitors.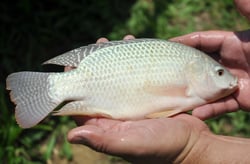 Reaches up to 24 inches in length and can exceed 10 lbs. on longer growing timelines. The typical males reach a larger size and grow faster than females.
Prefer 70º F to 91º F and pH of 8.0
*Available for USPS shipment or local pick up.